Rotisserie Pulled Pork with Beans
The Meat
I had the itch today for some Rotisserie Pulled Pork on a Weber Kettle Grill so I broke out my trusty Grill along with the OnlyFire Rotisserie attachment and got to work. The entire smoke session takes me about 5-7 hours depending on how cooperative my coals are being. I have tried cooking pulled pork many ways, on the gas grill (both on the grate and rotisserie), in a smoker… but I have always found out over the years that mine turns out the best when prepared with a kettle-rotisserie setup. There is just nothing like that charcoal flavor. Here is how I do it…
Meat Prep
I always do these two at a time and use 8-10 LB pork shoulder skin removed. I know some of you are already cringing a bit but hey.. I gotta keep things lean. I brine it for about 3 hours in a cooler and then rub it down with some brown sugar and garlic powder. Put it on the spit and get your coals ready.
Kettle Grill Prep:
I try to keep the kettle around 300 degrees and I find that this is the perfect temperature for a crisp outer shell and inner moisture. I heat up an entire stack of coal in a chimney starter and pour it into the Slow and go. Top it off with some wood chunks just before you close the lid. I use apple wood chunks soaked in water. Set up the Onlyfire Rotisserie ring and plug in the motor.
The Beans
Disclosure: This post contains links to products that I may receive compensation from at no additional cost to you. View my Affiliate Disclosure page here.
I use a combination of Black, pinto, kidney and Bushes vegetarian for this recipe.and cook everything 5 quart cast iron dutch oven Like this one. I start by crisping up some bacon in the dutch oven, put it aside when its done, then saute the onion in the bacon grease till it looks good to you. While your doing this, open the cans of beans and drain the pinto/black/kidney but not the vegetarian. When the onion is done, mix everything else below together. Then simply put the entire dutch oven directly under your rotisserie meat uncovered so it catches all the lovely drippings. Stir it occasionally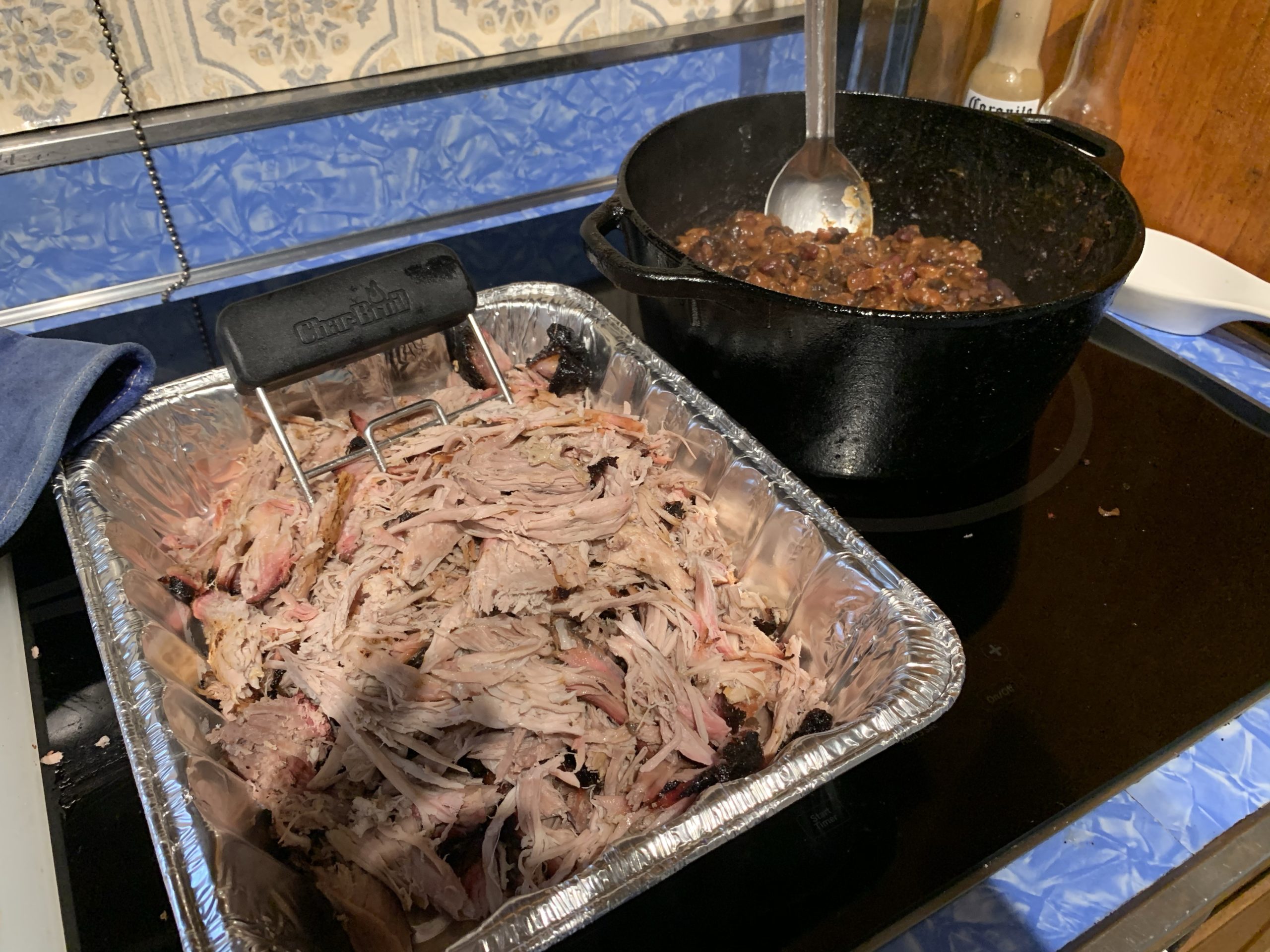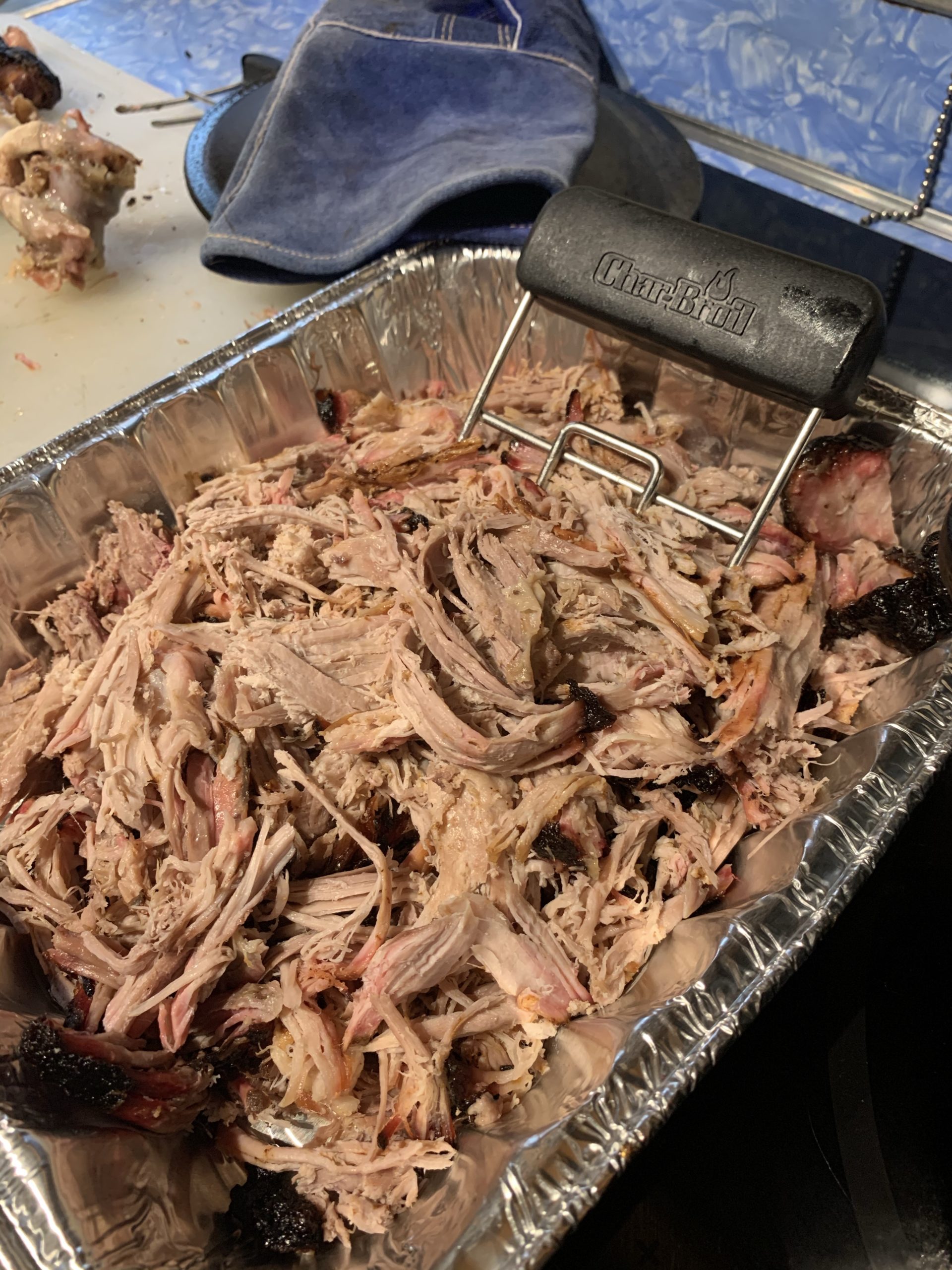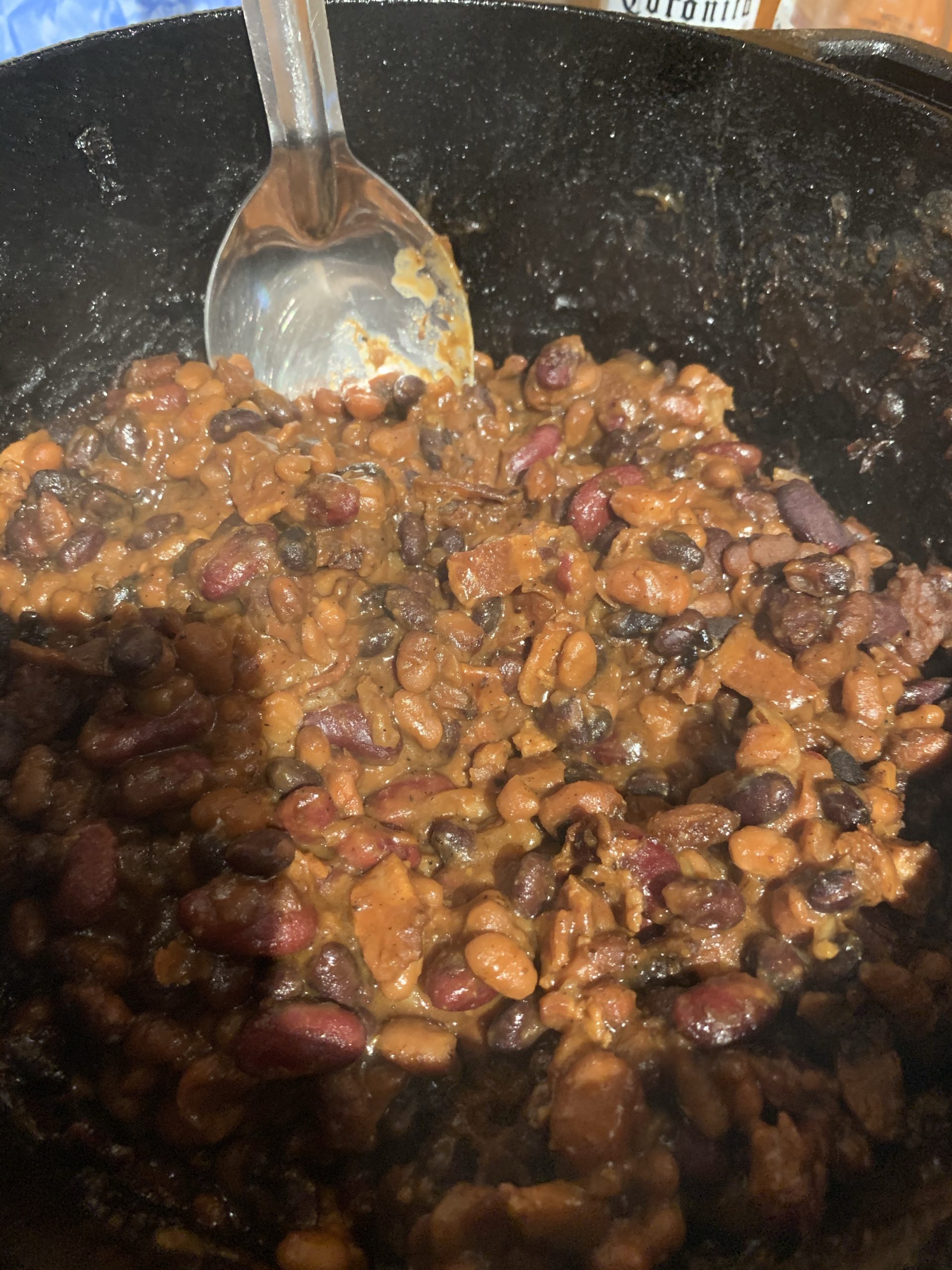 Full Recipe:
Pulled pork:
Pork shoulder
Dry rub of your choice
Beans:
1 – 28 oz. can Bush's Vegetarian Beans
1 – 15 oz. can Black Beans
1 – 15 oz. can Pinto Beans
1 – 15 oz. can Kidney Beans
1/4 cup brown sugar
6-8 slices of chopped up bacon
1 large sweet onion Diced
3 tbs. mustard 3 tbs. of your favorite BBQ sauce (or whatever you have on hand)
1/4 cup molasses
The Gear:
Here is a list of some of items that I use. I will be doing individual reviews on some of this gear as soon as I get some time so stay tuned!
Weber Original Kettle Premium Charcoal Grill, 22-Inch, Black
Onlyfire 22-1/2-Inch Stainless Steel Charcoal Kettle Rotisserie Ring Kit for Weber
Slow 'N Sear Deluxe for 22″ Charcoal Grills
Lodge 5 Quart Cast Iron Dutch Oven. Pre-Seasoned Pot with Lid and Dual Loop Handle